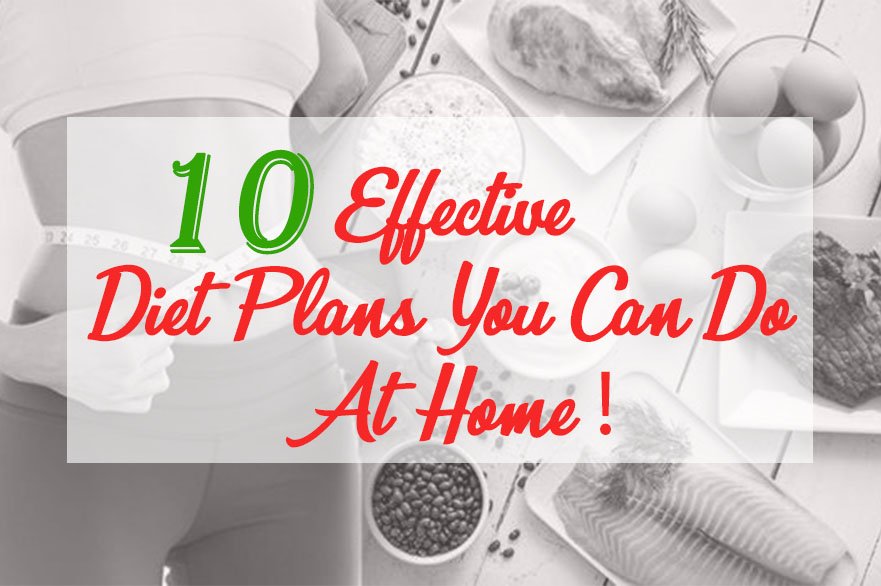 10 Effective Diet Plans – You Can Do At Home.
Diet plan is one of the most important things to achieve your good health. You have to make your daily food routine in a way so that you can have a healthy life. You have to consider food with their energy level, not their taste level. You will also find some foods which are tasty and healthy at the same time. You can start the work to make your fat loss diet plan right now. I will help you with 10 Effective Diet Plans which you can take in consideration during this process. Live healthy, live fresh.
#1: Create a Diet Chart
Making a diet chart can be your first attempt to get the desired health. Vitamin and fiber is the essential ingredient for our body. Try to add as many fruits and vegetables as possible because most of them are rich in vitamin and fiber. Avocado, salad, yogurt, yolk, etc. all are best diet foods. Fish and meat should be on your list. But if you are a vegetarian, you have to increase the number of nutritious fruits and vegetables in your diet chart. You can also take some extra supplements to fulfill your nutritious daily gap.
#2: Perfect Meal Timing
Besides having good diet meals, it is also essential to take them at an ideal time. If you missed the morning breakfast, lunch, dinner or any other dishes, you would suffer. Because when you are in the process of being healthy, you can't afford to left your stomach to be empty for a long time. Try to take small meals within every 4 hours.
#3: Stay Calm and Patient
It is so true that you can't lose your belly fat in a week. You have to stay calm, patient and work hard. Work hard doesn't mean to push your body out of your limit. Figure out your body's ability and work accordingly. Day by day your body will improve and your strength too. It just needs some time, and you have to give it. Don't get frustrated and wait for the right tide. Many people lost their motivation after one week because they are not getting that change which they are hoping. You have to understand everything needs a right time to come.
#4: Regular Exercise
If you want to stay fit and healthy, you have to do some exercise with your healthy diet chart. Swimming, cycling, walking, etc. all are a form of exercise. It is not always necessary to hit the gyms. You can also take the exercise measure naturally. Morning is the best clock to exercise, but you can do the movement anytime you want. Increase the exercise level slowly and let your body keep up with the pressure.
#5: Set the Goals
Setting a goal can show you what you really want. You can give a number to your desire. Try to fix the target in a big range. With proper guideline and actual fat loss, diet plan can take you towards it. Big goals also should be in a limit. If you want to lose ten lbs in your first week, sorry to say but that is madness. Because you had to give your body some time and your first call should not be more than two or three lbs. Always remember, slow and steady always win the race.
#6: Keep Track Of Your Nutrition Intake
Eating a low-fat diet and doing exercise can bring benefits to your health. But to know how much specific improvement you are doing, you need to calculate the nutrition intake. How many calories are you taking? Vitamins? Minerals? You can use different app and website to calculate you nutrition intaking. In this modern world, it is very easy chores to complete.
#7: Celebrate Your Achievement
After your all the hard work when you achieve your goal, you should celebrate. It can be small, but it is your goal. Like when you first lose 5 pounds, you can reward you with something. It will motivate you to lose 5 pounds more. Besides all healthy eating plan and exercise, this point is also tremendously important. Remember sometimes you will fail to achieve your goal in your desired period. Don't punish yourself. Wait and give it some more time.
#8: Stay away from on Unhealthy Food
The last thing you should do, skip the junk food. They are tasty but have no nutritious value. So try to avoid them and eat some good food. Noodles, pasta, and white bread all are bad for our health and have so little nutritious value. Most of the street foods that we eat are cooked with lousy quality oil. Some of them are also rich in sugar. These components are a massive source of calories and make you eat more, means belly fat. So, stay away from them and keep healthy.
#9: Get a Partner
We are born to mingle. In research, the scientist finds out that our working ability increase when we do the job together with our opposite gender. So it will be good for you if you find a partner for yourself. As I say, it will be good if it is someone of the opposite gender, but it is not compulsory. You can also choose someone of your own gender who is looking for the same change just like you. Beside best diet and exercise plan, you also need some motivation which you can find from your partner.
#10:  Run-through Mindful Eating
Run-through meals or eating on the go may lead you to ingest too much, too rapidly. Instead, be chary of your food, focusing on how each bite palates. It may lead you to be more aware of when you are full, reducing your probabilities of overeating. Concentrating on eating gradually and enjoying your meal, even if you have partial time, is a great approach to decrease eating more and more.
Many of us dream of better health. But to achieve it you have to do hard work, and that is tough. Making an exercise routine and a diet chart can be your first step towards your desire. I have discussed some of the diet plan methods which you can follow for a better result. Experts certify most of the points which I have written. Still, you can consult with some experts and make your routine for a healthy life.
NB: If our work brings any benefit to your life, don't forget to like, comment and share.