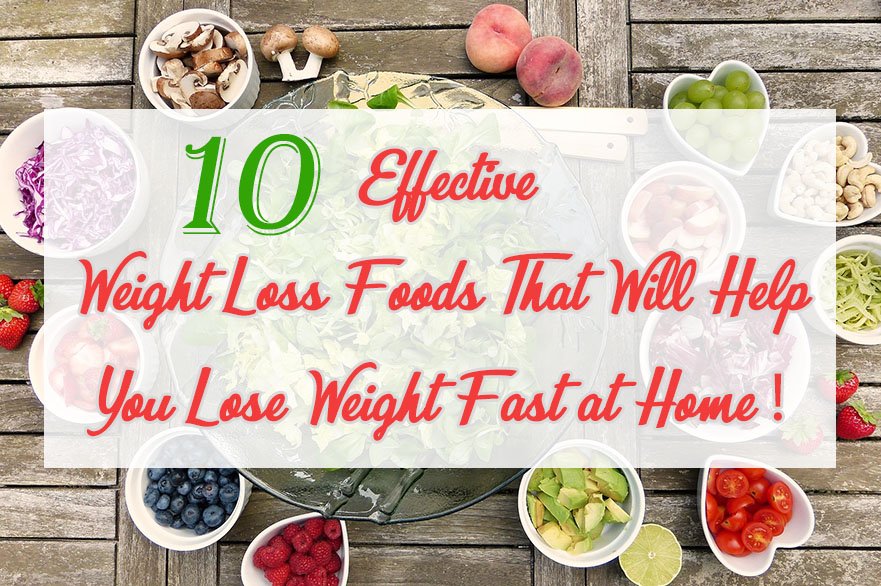 10 Effective Weight Loss Foods That Will Help You Lose Weight Fast at Home
In this modern world, body shape has great value. Every single human wants to be in great shape. But all cannot fulfill their desire. Because it is hard to do and you have to follow a lot of rules. You have to pay the price before getting something. Good physical appearance without extra weight can be gained with proper diet routine and exercise. In this article you get 10 Effective Weight Loss Foods which you can add to your diet food chart for better health. Those will help you to lose weight. Let's see.
#1 Avocado
Avocado is healthy food. This egg-shaped food is an excellent source of fatty acid, fiber and photochemical. It can be cultivated both in indoor and outdoor. So you can grow this food at your home and use them as your weight loss food. It can also help you to level down your BMI. Avocado produces avocado oil which you can use in your salad and other dishes. It does not contain any cholesterol. It also has a very tiny amount of saturated fat. Hundred gram of avocado contains only 160 calories which can be a significant reason why you should get this food in your healthy food list.
#2 Eggs
People love to eat eggs all over the world. Three eggs a day can increase your HDL cholesterol which is good for our health. It is an excellent source of protein.in the white part of the egg you can find vitamin B2 and lower amount of fat rather than the yellow part.5 eggs can contain up to 35 gram of protein and only 375 gram of calories. This natural weight loss food can also be an excellent fighter for several diseases
#3 Beans
If you're trying to lose your weight, beans can be a significant weight loss friendly food for you. This starchy vegetable will help you to fulfill your daily protein needs. It is also low in calories but rich in soluble fiber. Soluble fiber in food benefits to control weight gaining. It can also reduce your triglyceride and cholesterol levels. You can add them to your daily food dishes to make them healthy. It should always be in your top list when you are making a diet chart for losing weight.
#4 Yogurt
Yogurt is produced using yogurt cultures bacteria with milk. As it is an excellent store of fiber and probiotics bodybuilders used to add them to their diet chart. It contains magnesium, riboflavin, vitamin B6 and many other good minerals for your health. Its high amount of calcium can help you to burn fat and gain quick weight loss. Always try to ignore adding any artificial flavor to the yogurt, it can be lost its nutrition value. You can call it a quick weight loss food for its swift impacting characteristics.

#5 Salman
Salman is an oily fish. It contains a high amount of protein, vitamin D and omega three fatty acids. Omega 3 fatty acid is a polyunsaturated fat which is essential for your body. This fatty acid can also help you to cut the calories from your diet food list. Besides, it can decrease the risk of cardiovascular disease, and its potassium can help you to balance your blood pressure. It is a zero carbs food. Another thing you should know that it is delicious too.
#6 Fruit
There is no doubt that fruit is great for your health. Some of them are rich in fibers while others are rich in vitamin and minerals. They are naturally low in fat and calories. It can also pull down the risk of many diseases and make you healthy. To keep healthy, you should take at least 400 gram of fruit every day. Fruits can be great food in your weight loss chart. Heart disease,  blood pressure, and even cancer can be prevented by taking fruits regularly.
#7  Popcorn
Popcorn is a familiar food to movie lovers. When you watch a movie without a popcorn pack in your hand, it does not look so good. And I am going to motivate you to have some. 5 ounce of popcorn contains 20 grams of fiber and 20 grams of protein. It is also low in calorie which makes it a great diet food recipe for weight loss. Per ounce contains only 150 gram of calories. It also has some little carbs but will not bother you too much. Its dietary fiber can improve your overall health. Next time, when you watch the movie don't forget about the popcorn.
#8 Almonds
Almond is a type of nuts. It is rich in fiber and protein. Dietary fiber can be an excellent source to control weight loss. Two ounce of Almonds contains 12 gram of proteins and only 328 grams of calorie. USDA suggested taking 23 almonds daily. Besides weight loss, it can also help you to balance blood pressure, sugar and cholesterol levels. As it helps to reduce hunger, it can be a beneficial food for weight loss. Don't try to consume a lot of almonds at a time; it can cause constipation.
#9 Boiled potatoes
Boiled potato is more nutritious than a raw potato. It contains protein, magnesium, and fiber. It is also rich in vitamin C and vitamin B6. It can help you in controlling blood sugar level and reducing the risk of heart disease. This complex carbohydrate can assist you in weight loss too. 100 gram of boil potato contains 1.7-grams protein and 1.6 gram of fiber. You can add a boiled potato in your weight loss diet chart for a quick result.
#10 Tuna
Tuna is a healthy saltwater fish. Tuna is a full package of protein with good taste. Its omega three fatty acids are good for your heart and antioxidants to help improve the immune system. It produces melatonin which can enhance your eye health and raise the hormone growth. It also has selenium, vitamin B6, vitamin B12, and many other minerals. It can be a tasty way to lose your weight.
Those 10 Effective Weight Loss Foods which can be great for your weight loss program. Besides, you should also do some exercise to gain your weight loss goal. Combination of a proper diet chart and training will take you towards your desire. You will find a lot of supplements for losing weight, but most of them have side effects. So try to avoid them and take the natural action to lose weight. In the vast research and talked with experts before recommending you the foods.
NB: Try to add them to your diet and if they help you out. Don't forget to comment, like and share.